Interactive Metronome®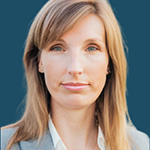 Valérie Leroux - October 24, 2023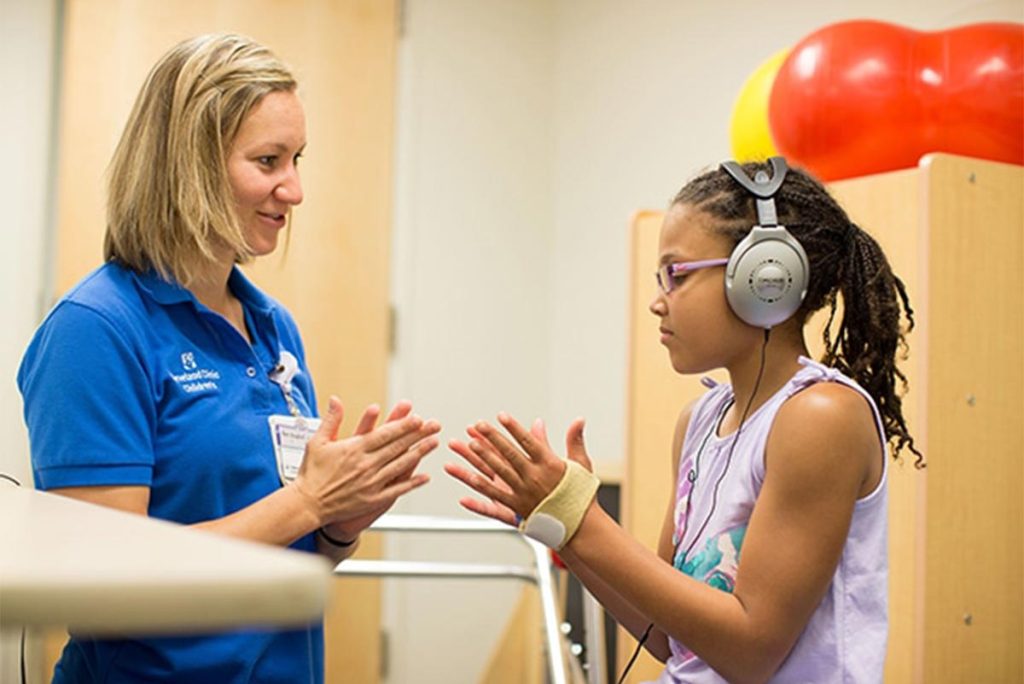 What is Interactive Metronome® (IM)?
Given the variety of brain training programs that are currently available on the market, it might be challenging for parents and therapists to choose the best options. We have looked into the Interactive Metronome® (IM) program. What is included in this program, is it effective enough to have an impact, how much does it cost, and how does it stack up against other alternatives?
Summary of IM: A brain training program for professionals
IM was developed in the 1990s for adults and children with learning and developmental disorders. It is a software-based program consisting of a series of hand and feet exercises following metronome beats. It is historically a professional-based program, although there is nowadays a home IM version as well as a consumer version (called BrainBeat). It remains a relatively expensive approach compared to other alternatives or complimentary approaches such as Forbrain® or Soundsory® simple-to-use home-based treatment programs.
CONS
❌ Requires professional equipment
❌ Not the most user-friendly
❌ Rather expensive
What is the Interactive Metronome® (IM) program?
The Interactive Metronome® (IM) program is a computer-based training program that aims to improve the timing and synchronization of neural networks in the brain. It involves a series of exercises that require the participant to match their movements with a metronome beat, helping to improve attention, coordination, and overall cognitive function.
IM is a software consisting of a series of 13 hand and foot interactive exercises which are performed while auditory tones direct the individual to match the metronome beat. The program evaluates and assesses the user performance.
Who can benefit from IM?
IM can benefit individuals who struggle with motor planning and sequencing, attention, language processing, and other cognitive and physical challenges. It has been used with individuals diagnosed with ADHD, autism spectrum disorder, cerebral palsy, stroke and traumatic brain injury, amongst other conditions. It requires however for individuals to be able to follow instructions, which can be a challenge for some of these conditions.
Where is IM coming from?
IM was developed in the United States by James Cassily, a record producer and engineer, in 1992. It used to be a device used by musicians to improve rhythm and timing. James then presented his findings to Dr. Stanley Greenspan, a child psychiatrist, author, and director of the National Institute of Mental Health. Together, they improved the device's features and gave it the name Interactive Metronome® (IM). The Interactive Metronome company was subsequently established and the device was granted a patent.
Since then, it has been used in clinical settings for over 20 years with the aim to improve cognitive, motor and sensory skills. It was initially used for kids with learning and developmental disorders. IM is now also used for adult rehabilitation following stroke, brain injury, a diagnosis of Parkinson's Disease, or other neurological disorders. There are now more than 40,000 certified IM Providers spread across more than 60 nations. IM is to be bought by professionals, with an IM home version now available for both children and adults, meant to be used under the supervision of an IM home specialist. However, a division of IM called "BrainBeat" has also been launched for consumers' use at home. It aims particularly at children with ADHD and learning disabilities and is also promoted as a performance enhancer.
Which equipment is needed for IM?
Interactive Metronome® is a software program functioning with accessories such as headphones, button triggers won like gloves and a feet-tap map.
IM home version requires headphones, a computer or tablet, and a handheld device called the IM Home Unit. Unfortunately, it is not available as a mobile application.
What is the evidence behind IM?
Although more than 40 peer-reviewed research studies and white papers on IM have been published, Occupational therapy (OT) literature makes up the majority of the literature base for IM. The standard medical literature has a small but growing body of work. For now, there is not enough data to suggest it as a first-line treatment for conditions like ADHD. A recent meta-analysis showed that the Interactive Metronome® training had moderately positive effects on motor function for athletes, healthy people, and people with neurological disorders [1].
What is the time commitment required by IM?
The time commitment required by Interactive Metronome® varies depending on the individual's needs and goals. However, the program consists typically of 12 or 15 one-hour sessions, which can be completed in 3 to 5 weeks.
Where can IM be practiced?
Interactive Metronome® can be practiced in a variety of settings, including clinics, hospitals, schools, and even at home with the use of specialized equipment and software. It is important to work with a trained professional to ensure proper implementation and effectiveness of the therapy.
Can IM be individualised?
Interactive Metronome® can be individualized by adjusting the tempo, duration, and difficulty level of the exercises based on the specific needs and abilities of each person. Additionally, therapists can tailor the program to target specific areas of improvement such as attention, coordination, or language processing.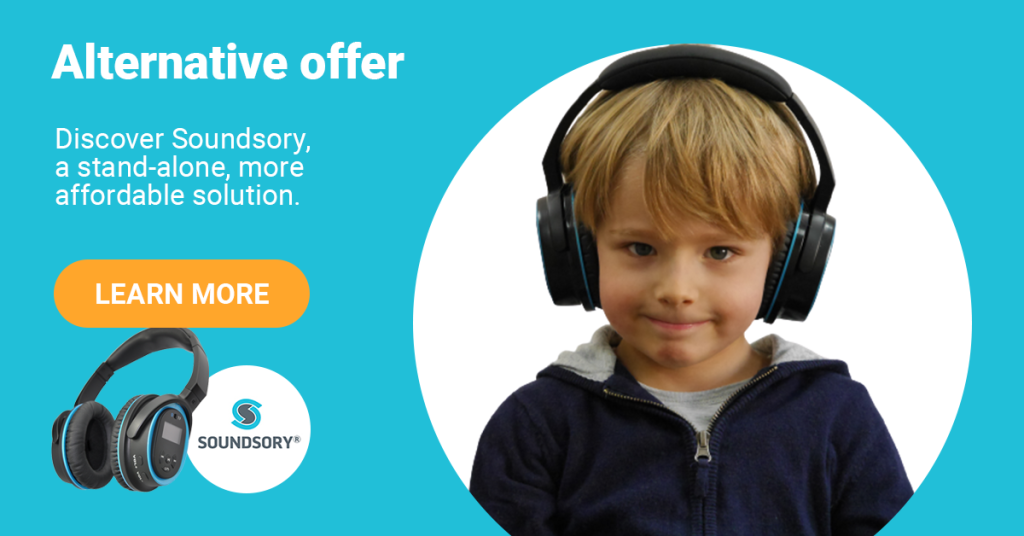 How much does IM cost?
The cost of Interactive Metronome® varies depending on the provider and the length of the therapy. It is best to contact a licensed Interactive Metronome® provider for specific pricing information. The equipment cost for a professional starts at USD 6,000.
What are the alternatives or complementary approaches to IM?
Some of the competitors or complementary approaches of Interactive Metronome® include NeuroNet Learning, BrainTrain®, Cogmed, inTime and Rhythm Works. These companies offer similar programs that focus on improving cognitive and motor skills through rhythmic exercises. IM also has a partnership with Forbrain® as a potential complementary approach as an Altered Auditory Feedback (AAF) Device.
For your reference, we have listed some of the complementary or alternative approaches to IM:
NeuroNet is a system mainly sold to schools that supports learning through movement and is based on research into how our brains build and strengthen neural networks. It consists in a series of exercises children practice before classes.
A series of computerized cognitive-training programs called BrainTrain are aimed at brain training and cognitive rehabilitation. BrainTrain provides resources to evaluate ADHD, enhance reading, and mentally challenge oneself. It is offered by medical and psychological professionals or can be used at home. According to research, these products can enhance memory and focus.
A dynamic filter, a microphone, and bone conduction are all features of the Forbrain® headphone. By transmitting the voice directly through bone structure rather than through air conduction, it improves certain vocal patterns. The user's voice is isolated and amplified by the electronic dynamic filter, which eliminates background noise, giving the nervous system a good sensory workout. Additionally, it improves long vowels and other important language-building sounds. To enhance the auditory feedback loop, the resulting sound is transmitted to the nervous system and brain through the bones and bone conduction rather than the ears or air conduction.
A typical program lasts for six weeks and 20 minutes per day.
The Soundsory® Program is the ideal complementary approach to Forbrain®.
The Soundsory® program combines a set of movement-based exercises with specially composed music that has undergone neuro-acoustic processing. The main goal of Soundsory® is to lay solid foundations for more advanced cognitive processes, starting with the basics of sensory integration. When used independently, the program lasts for 40 days at a rate of 30 minutes per day.
Cogmed is a program for strengthening the brain that consists of 13 memory-improving games for children of all ages and adults. Exercises are spread out over 25 sessions. Based on the user's performance, the exercises' difficulty level is changed in real time.
The music of inTime is made to encourage rhythm awareness, focus, timing, and adaptive responses to stress for children, adolescents, and adults. inTime provides a personalized program of listening exercises and movement activities using the body, the voice, and drumming for users to gain a better understanding of how the brain and body interact. inTime was created by Advanced Brain Technologies, also offering the home-based auditory Therapeutic Listening Program®.
The Hip Hop Made Easy Program, which is currently being used in over 2,500 schools and dance studios worldwide, has been transformed by Rhythm Works Integrative Dance into a clinical modality that can be used alongside current therapies and as a means of integrating children with special needs and unique learning differences into inclusive dance classes. The curriculum is appropriate for boys and girls of all ages and can be customized to meet the needs of students. It is offered to therapists, educators and dance teachers.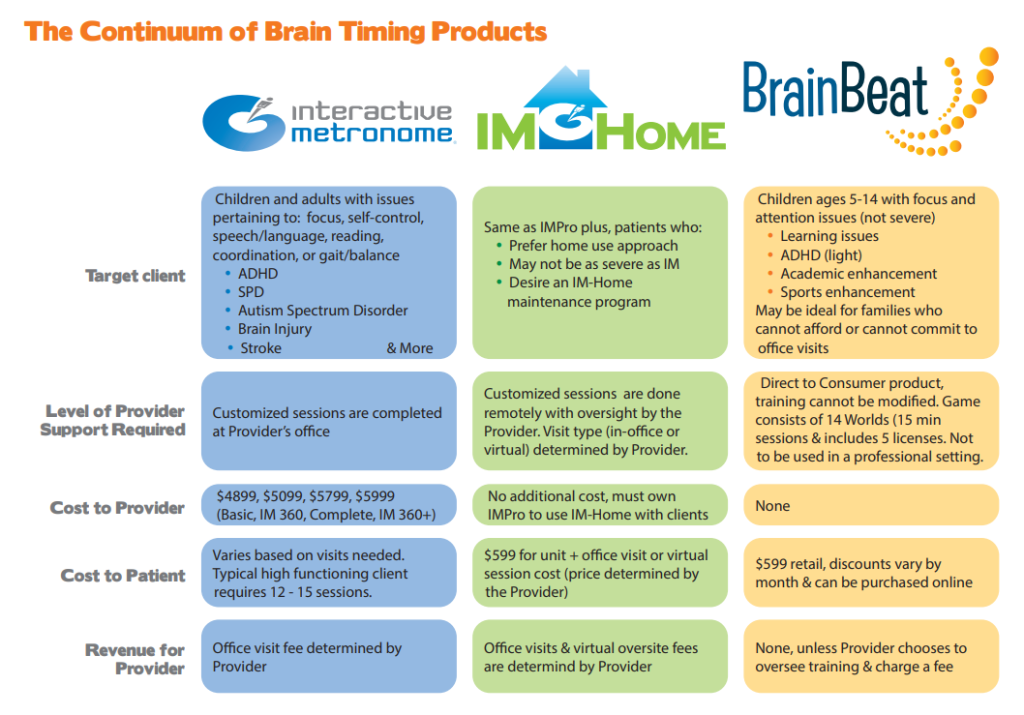 Who delivers IM?
Interactive Metronome® is delivered by trained healthcare professionals, such as occupational therapists, speech therapists, physical therapists or psychologists.
One day Interactive Metronome Certification training is US$ 149 (The equipment is not included). There are no prerequisites to enter the course. 2 professional certification levels are available.
Conclusion
IM is primarily addressed at professionals and its consumer version remains relatively expensive and requires multiple pieces of equipment when compared to other home-based programs. It can be used as a stand-alone brain training program or as an adjunct therapy with other home-based language programs such as Forbrain®.
References
Lee HK, Kim HJ, Kim SB, Kang N. A Review and Meta-Analysis of Interactive Metronome Training: Positive Effects for Motor Functioning. Percept Mot Skills. 2022;129(5):1614-1634. doi:10.1177/00315125221110403