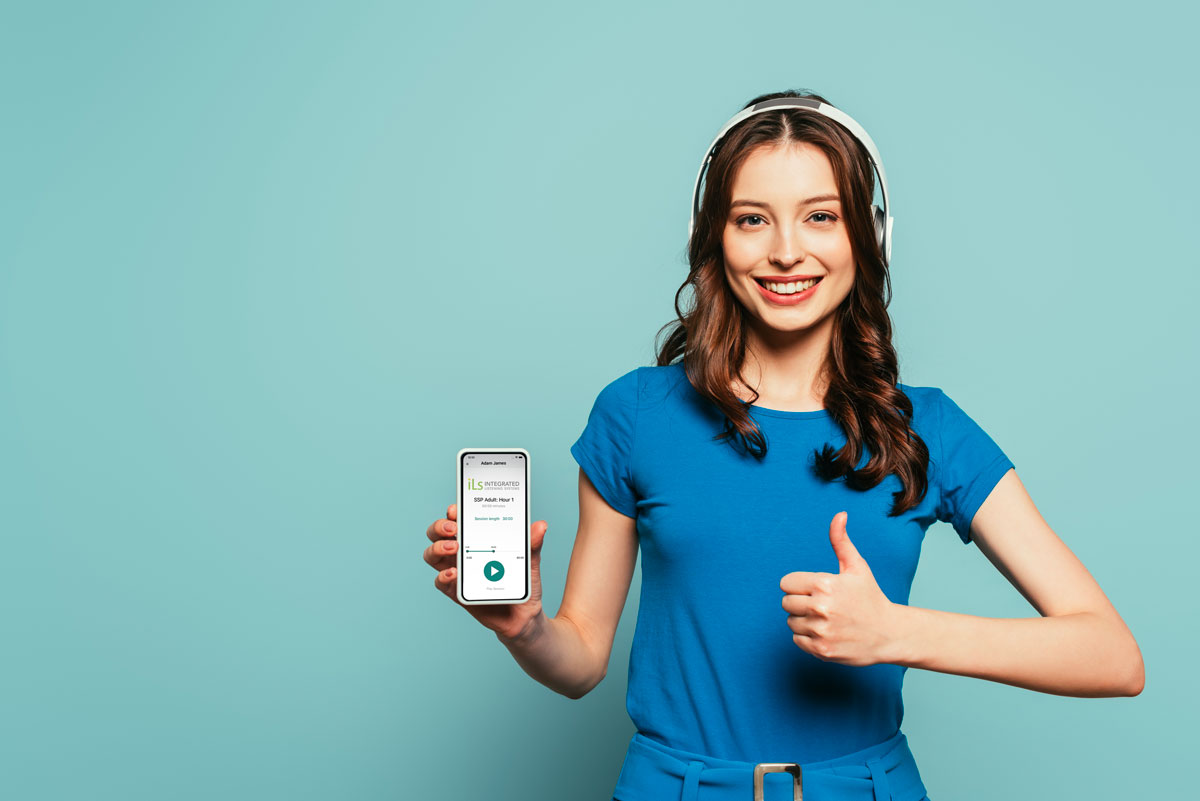 Pros
Easy to implement and easy to use
 Mixing auditory and language (not for Safe and Sound Protocol)
Cons
Uses standard equipment and a standard list of music with limited individualization
 Provide pre-recorded classical music with a regular band-pass filter
 Requires one to go to a clinic or find a qualified home coach


 Relatively costly

What is Integrated Listening System (ILS)?
Integrated Listening System (ILS) is a sound therapy program that provides pre-recorded filtered classical music that functions with an app. The Sound and Safe Protocol consists of 5 hours of Classical music that is progressively filtered. The sound is delivered via regular headphones. ILS also provides voice feedback tasks that requires the user to plug a set of air and bone conduction headphones equipped with a microphone to the app.
What is the Safe and Sound Protocol (SSP) by ILS?
The SSP has been created by Dr Porges. It is based on the Polyvagal Theory to reduce sound sensitivities and improve auditory processing through filtered music. It claims to act as an acoustic vagal nerve stimulator to shift the nervous system into a state of social engagement.

It consists in a program of three 5-hour sessions of music. Each program contains one playlist for adults and one for children. The music is filtered with a regular band-pass filter.

The first program (SSP Connect) does not contain any filters, the second program (SSP Core) contains a filter which progressively opens to low and high frequencies.

The last program (SSP Balance) consists of lightly filtered music without progression. The programs cannot be modified or individualised.

No equipment is needed except a connection to the application.
What are the benefits of ILS?
In the same manner we train our muscles to get stronger and fitter, the ILS sound therapy program trains our brain to enhance neuroplasticity. To do so, music has been filtered to focus on certain frequencies which are correlated with specific brain functions. On top of the auditory component, the user can also engaged in language and motor exercises which gradually become more complex.

The ILS program is a progressive sound therapy which helps the brain to process sensory, cognitive, and emotional information more effectively. It has been used to treat people with sensory challenges, anxiety, or learning and attention deficiencies.
Where is ILS coming from?
The Integrated Listening Systems  was founded in 2007 by Dr. Ron Minson, Dr. Kate O'Brien Minson and Dr. Randall Redfield in Denver, Colorado. Interestingly, Dr. Ron Minson was trained by Dr. A. Tomatis. They focused on adapting auditory integration trainings by combining movement and sound therapies into a unique therapy mix. The company is now part of Unyte health.

While ILS foundations are based on the Tomatis Method, It does not provide sound contrasts through the patented dynamic filtering system that is the core concept of Tomatis and Soundsory.
What does ILS involve?
ILS programs offer a variety of listening sessions varying in length and frequency. Typical ILS programs are 20-40 sessions in length, 2-5 times per week. Each session is 30-60 minutes long, but it is possible to find shorter sessions of ILS. During part of the listening sessions, the user can be invited to perform specific movement and motor activities. Sessions may be longer for those with developmental issues.
Who benefits the most from ILS?
ILS can be used by people suffering from autism or developmental, learning and attention difficulties. It is also used to improve the performance of students, athletes and professionals by increasing focus and motor coordination. The following areas have seen reported gains after completing ILS programs:
Sensory and language areas
Concentration and focus
Fine and gross motor functions
Emotions, mood and self-confidence
Cognitive functions
Where can ILS be practiced?
Traditionally, ILS programs are delivered by trained practitioners in a clinic environment. Nowadays, some ILS programs offer the option to be supervised and provided at home. It is also possible to combine these two options based on your preferences, availability, and schedule. For home users, equipment can be rented from providers for an average price of USD 150 per month. Several months of use are typically required.
What is the equipment needed for ILS?
The classical ILS equipment is a mobile application which provides multiple playlists of filtered music programs. The application provides the Safe and Sound Protocol which consists of 3 programs of 5 hours each. ILS also provides the Focus System which consists of several pre-recorded auditory programs. Another separate device named VoicePro® is an amplifier of voice feedback to do language tasks. It is sold with headphones equipped with air and bone conductions, an Integration Kit and a play book for balance activities.

Originally, ILS also developed the DreamPad® which is a classical pillow with bone conduction transducers placed in the middle of the synthetic feathers (starting at USD 149, app is not included).
How much does ILS cost to end users?
The cost of an ILS program in a clinic includes access to the application as well as the support and supervision from a trained ILS professional. It can vary depending on practices and countries, but it is likely to cost more than USD 150 per session, meaning around USD 2,000 for the full program. To find a certified ILS professional, a provider locator is available on the ILS website. However, numbers are limited: only 1,000 to 1,500 certified practitioners are recorded worldwide, mostly in the US and Canada. A home alternative or complementary program is available but requires the supervision of a professional and therefore costs related to this home coaching option are to be expected.
Does ILS work and what are the side effects?
Integrated Listening System claims to have outcomes in a variety of applications such as autism, trauma, anxiety, ADHD and Brain injury. There are no scientific studies or evidence supporting those claims but several paid case studies and reviews that are available online. The online literature also points out limited side effects thanks to the music which is gentle and the daily length of the program which is kept quite short. Therefore, over stimulation is limited.
Are there any alternatives to ILS?
ILS programs typically require time and effort to travel to a clinic to visit your practitioner, which might be a source of stress and anxiety for the user, especially autistic children. They also end up being costly. Fortunately, there are other easy-to-use sound therapy programs available in the comfort and security of your own home, such as Soundsory®, the Tomatis® method or Forbrain®, which can either complement or replace other ILS programs.
Soundsory®
Soundsory® is an auditory stimulation program that can easily be purchased online.

It is a 40-day program that consists of 30 minutes of daily music listening with free exercises available. The program is divided into two sessions of 20 days each with a 2-4 week break in-between.

Similar to ILS, Soundsory uses a multi-sensory approach to stimulate the vestibular and auditory systems simultaneously through the patented dynamic filtering system. It is comprised of a music listening and body movement exercises.

Soundsory® can be used individually or as a complement to other sound therapies. Additionally, the Soundsory® program can be done simultaneously with other interventions (e.g. tutoring, ABA, counselling).
Tomatis® Method
The Tomatis® Method is the original auditory program developed by the French Doctor and Researcher, Alfred Tomatis. The method is backed-up by more than 100 studies showing positive effects, some have been published in peer-reviewed scientific journals. It consists in providing filtered music and voice feedback via a proprietary dynamic filter. All parameters, such as dynamic filters or air and bone sound conductions can be individualised for each user.

Mixing passive listening sessions and voice feedback sessions with a dynamic filter and bone conduction delay, the Tomatis® Method works on all aspect of the auditory processing.

A first 90-minute assessment is performed thanks to a TLTS (Tomatis Listening Test Session).   A typical Tomatis® program consists of 80-minute daily sessions during 12 days, which are then repeated 2-3 times, with 4-6 weeks break between each session. Sessions are a mix of listening music and language tasks.

The Tomatis® Method is delivered by certified professionals in dedicated Tomatis® centers. The Tomatis Equipment consists of a professional device called Talks-Up and specific air and bone conduction headphones called INFINITE which include follow up programs and several settings.
Forbrain
Forbrain® is also based on the principle of the Tomatis® method but focuses on the user's voice, which is captured via a microphone and then filtered and directly retransmitted to the ears, challenging the brain in a sensory workout. It is particularly intended to improve language and increase attention.

Used in addition to Soundsory®, Forbrain® provides a complete sensory workout.

Here is a summary of the main alternatives to ILS:
| | | | |
| --- | --- | --- | --- |
| Auditory Stimulation Program | | | |
| Name | Soundsory | Tomatis method | Forbrain |
| Technological Concept | Combines music and movement stimulation Based on the same principle than the Tomatis method | Combines music and voice stimulation Patented technology with high quality air and bone conduction headphones | User's voice stimulation only Based on the same principles of the Tomatis method |
| Context of Use | At home by user | In a Tomatis center by trained practitioners or at home with the supervision of a trained practitioner | At home by user |
| Session schedule | 30 minutes a day for 40 days, divided into 2 sessions of 20 days each, with a break of 2-4 weeks in between | A first 90 minutes assessment is done, then 80 minutes daily during 12 days, repeated 2-3 times with a break of 4-6 weeks between each session | 20 minutes a day for a minimum of 6 weeks |
| Professionals training Certification | Referral program for professionals | Deep training with 4 levels of certifications | Affiliation program for Professionals who recommend Forbrain |
| Pros | Can be used at home, alone or in combination with other therapies Easy to implement and easy to use More affordable than clinic-run programs Mixing auditory, language and movement Includes online exercises program | Mixing auditory, language and movement Individualized follow-up | Can be used at home and complement speech and occupational treatment plan. Easy to implement and easy to use in both clinical treatment and at-home More affordable than clinic-run programs |
| Cons | Does not necessarily include follow-up by practitioner | Relatively costly | Focused on language and attention deficits only |
How does Soundsory® differ to ILS?
As opposed to ILS, Soundsory® provides not only pre-recorded filtered music, but music that has been electronically processed using a patented dynamic filter system to create specific sound contrasts. Those sound contrasts are intended to create surprise and deeply stimulate the brain. It derives from the well-established Tomatis® method technology.

In addition, the music has been specifically modified to emphasize the rhythm of sounds in order to activate body movement. The Soundsory® body movement exercise program is meant to be fun and challenging. It focuses on building proprioceptive abilities through specific, repetitive movement exercises.

A summary of the comparison between Soundsory® and ILS can be found below:
| | | |
| --- | --- | --- |
| Auditory Stimulation Program | | |
| Name | | Integrated Listening Systems (Safe and Sound Protocol) |
| Daily Sessions | 30 minutes | 30 minutes |
| Global length of listening | 20 hours of listening | 15 hours |
| Body Movement exercises | Yes | No |
| Price | 299 USD | 1000-1500 USD |
| 30 Days money back guarantee | Yes | No |
| Technological Concept | Combines music and movement stimulation. patented dynamic filter based on the Tomatis Method. | Combines music and language stimulation No patented dynamic filter but a regular band-pass filter. |
| Context of Use | At home by user or under Professional supervision. | In a clinic by trained practitioners or under supervision. |
| Session schedule | 30 minutes a day for 40 days, divided into 2 sessions of 20 days each, with a break of 2-4 weeks in between. | Typically, 30 minutes, 2-5 times per week. Program has 10-20 sessions. |
| Pros | Can be used at home Easy to implement and easy to use More affordable than ILS. | Individualised follow-up. |
| Cons | Does not include follow-up by practitioner. | Relatively costly. Requires going to a clinic or having a practitioner come to your home for supervision. No individualisation based on client profile. |
---
Is it possible to combine Soundsory® with ILS?
While both are not meant to be used simultaneously to avoid overstimulation, it is worth noting that if you or your child already started an ILS program, you can switch to use Soundsory® at the end of your program. It is also possible to start using the Soundsory® sound therapy and join ILS later on. In such case, there is no need to start ILS with the SSP Protocol as it provides low stimulation.
What is expected from parents when your child follows an ILS program?
When your child uses an Integrated Listening Systems program or other sound therapies, you will need to take your child to a clinic. If the program is used at home, you will be able to accompany your child during the duration of the program but should take this into account when preparing your schedule.
Who delivers the Integrated Listening Systems program?
The Integrated Listening Systems program can be delivered by trained psychologists, occupational therapists, physiotherapists, or speech specialists. It can also be provided by trained social workers and many other certified therapists. There are currently between 1,500 and 2,000 practitioners providing the ILS program globally, while most of them are based in the US and, Canada.
How to become a certified ILS provider?
Altogether, there are 2 levels of professional certification available.

There are no more live sessions available to be trained in ILS but only on-demand videos and pdf kits. The training is dedicated to professionals who hold an accredited academic degree.

SAFE AND SOUND Training certification is the first level and lasts for around 6 hours. It is a mix of animated PowerPoint presentations with recorded voiceover and pre-recorded webinar sessions. The FOCUS training is the second level and lasts for 3 hours.

Some Q&A live sessions are organised occasionally.

Overall, the ILS certification is USD 450. However, the headphones and access to the software are not included. The price of subscription to the application and software is 1,500USD / year and can be used with a limited number of clients per year.
Conclusion
The combination of auditory, language and movement activities offered by ILS programs allow one to re-train the brain to sensory stimuli. However, such program can end up being costly, and not broadly accessible. It is also not backed-up by scientific studies. To address these issues, there are robust and reliable alternatives which do not require you to find a qualified professional.  They can be conveniently used in the comfort of your home, such as the Soundsory® system. If you require the expertise of a professional, the Tomatis Method® is also a good alternative as the technology is unique and validated by many studies.