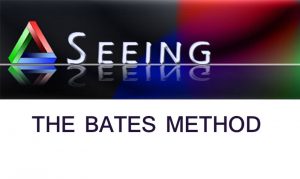 Technical description The Bates Method is an eye training program consisting of a series of exercises based on color and light perception, eye movement, long and short distance vision, central and peripheral vision.
Science foundation claims The Bates Method estimates that eye muscular reflex exercises can improve eyesight.
Protocol of Use A session typically lasts 1 hour.
Equipement
Professional Equipment No specific equipment.
End-users Equipment No.
Home based program Available.
Certification training
Training for Professionals No specific certification and training.
Online Training No.
Number of Professional certification levels No.
About the company
Good to know: Some exercises are dangerous for the eye and may be applied with precaution.
Company's founder and date: The Bates Method was developed by the Eye-care physician William Horatio Bates, M.D., in the 1900s.
Number of Practitioners: 200.
Main Area: USA – Europe
Location:
The Bates Method International
7 Christ Church Road
East Sheen
London, SW14 7AB