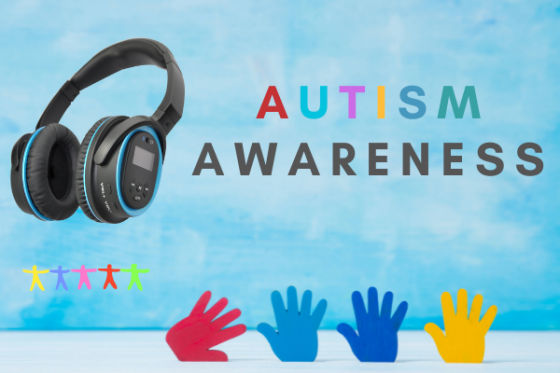 By Andrea Doumar OTR/L
Children often learn best through songs and music, and Music Therapy is becoming more and more popular for children with Autism. During one of my own fieldwork rotations, the children each day attended a music therapy lesson that I was able to participate in as an Occupational Therapist. This allowed me to see the benefits of music therapy hands-on. Music Therapy is beneficial to stimulate different areas of the brain, as well as assisting children in expressing emotions. Using music during therapy sessions is also great for increasing attention, motor imitation, and can target language goals.
School can be stressful!
We send our children to school to learn and grow; however, school can also be a place of high stress, especially for children with Autism or sensory processing disorders. Schools can be loud, crowded in the hallways, fluorescent lights, or different smells coming from the cafeteria. All of those things can interfere with a child's learning. As a licensed Occupational Therapist myself, our goal is to aid children to regulate throughout their school day to be successful. Using sound-based systems, such as music therapy and listening programs has been an ongoing trend to aid in child development, learning, and participation in their daily life.
Music as a Sensory Tool
Music in general targets many different sensory areas. Music is much more than just the auditory sound. For example, Music Therapy can involve the instruments and allows the children to explore these as well. If the child is playing and interacting with a drum, not only are they getting auditory input, but they are getting tactile and proprioceptive input as well.  Incorporate all of the senses, and larger fine motor and gross motor skills through music that is fast or even slow calming music. The sensory system can be fully enhanced through all sorts of music. Multi-sensory learning is a huge component in optimizing the learning environment for children with a variety of different diagnoses.
Music Therapy Programs
More and more research is coming out to prove that music has been a powerful tool when working with children with autism.  As stated above, music is a multi-sensory tool to aid in learning and increasing sensory processing. Below are some of the popular music listening programs for children with autism to optimize their learning.
Soundsory: Soundsory is a simple and effective music and movement therapy program

It combines the sensory system to target motor and cognitive skills in both children and adults
The program is shorter, more financially viable than other therapy programs and can be done at home without the presence of a professional therapist.
30 minutes a day split into two phases of 20 days each for a total of 40 days.
Bottom-Up Approach focusing on sensory integration, development, and learning.
Detailed crafting in the music to emphasize rhythm. It uses air and bone conduction through comfy headphones to target sensory processing. Soundsory also provides a headband with the headphones for comfort.

The Listening Program (TLP): The Listening Program is developed by Advanced Brain Technologies. The goal of the program is to maximize a child's potential whether it be at school or for adults in their daily life. (Advanced Brain Technologies, 2019). The purpose is to increase listening skills, self-regulation, and communication skills.

Similar to Soundsory, it is a program that can be used at home and can be used as an additional tool with other programs or therapies.
It also uses classical music to stimulate the brain through the headphones to target the auditory system. The schedule ranges from 15 to 30 minutes for 20 weeks, 5 days a week.  (Advanced Brain Technologies, 2019).

Integrated Listening Systems Therapy (ILS): Similarly to the above, this program can also be used in conjunction with other therapies to increase learning and listening (Integrated Listening Systems, 2020).

ILS looks at the sensory system by using the specific sounds and music to stimulate the brain to optimize learning.
ILS also uses a bottom-up approach. It focuses on multisensory learning through movement, mediation, and breathing to improve overall cognitive function. (Integrated Listening Systems, 2020)
There are more sound-based programs out there; however, these are three popular ones that are similar in nature. These programs can be used in adjunct to other therapies.
Benefits of Soundsory
Soundsory builds from the bottom to the top, just like a pyramid to target key aspects of sensory integration, development, and optimizing learning.
Sensory: Soundsory uses headphones, as well as provides video exercises to target the foundations of the sensory system. Not only is it targeting the auditory system, but also aids visual, tactile, vestibular, and proprioceptive systems.
Development: By building on the sensory system, Soundsory aids in the further development of fine motor, and visual-motor skills, as well as, increasing sustained attention, and body awareness.
Learning: By starting at the bottom of the pyramid with the sensory systems, we work our way up to the top of the pyramid. At the very top is optimizing learning. By furthering the sensory system and aiding in the development of skills, optimal learning can be targeted to increase cognitive skills.
Soundsory is a 40-day program broken down into two phases of 20 days each. This program is not something that has to interrupt and be time-consuming in your life. It is a daily program that is completed within 30 minutes! It can be used in conjunction with occupational therapy, physical therapy, or speech therapy sessions. In just 30 minutes of listening to calming classical music paired with calming exercises a child is developing their skills without even realizing.
Soundsory is adaptable for children of all ages or skill levels. No app is required and can be used in conjunction with other therapies! Soundsory has a 14-day money-back guarantee! Soundsory has been designed with advanced technology. It can be paired with Forbrain for a full multi-sensory picture.