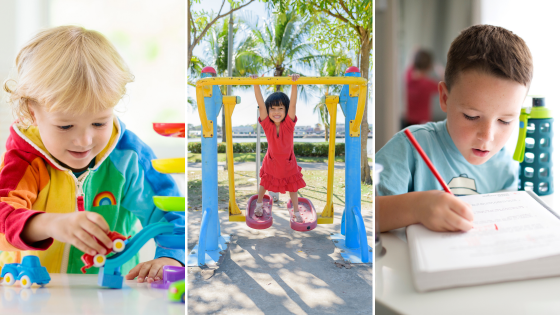 By Andrea Doumar OTR/L
Going to school is not an easy task. Just picture yourself walking through the hallway at school. You are trying to walk to the next class with a backpack or books in your arms. Other students bump into you. Different noises or screeching coming from all different angles as they echo down the long corridors. Do not forget the ringing bell to make sure you are at class on time! Navigating the hallway is no easy task, especially when you add in sensory processing challenges. Your child may also be experiencing sensory challenges that interfere with their ability to attend and complete classroom and daily tasks.
The Soundsory headphones are a beneficial product that your student or child may be able to use throughout their school day and assist them to efficiently navigate through the building or during classroom activities. The Soundsory headphones are noise-canceling, which would eliminate some of that extra noise when traveling the hallway. Soundsory uses a multi-sensory program through the headphones where your child can listen to a variety of calming music that allows them to increase their motor skills and attention to task.
Let's discuss some things that you can do within the classroom to help prepare your students for their school day and try to avoid any meltdowns from occurring.
Establish a Routine
Having a clear routine and schedule is beneficial for students with sensory processing deficits. This allows them to understand what is occurring and what they are expected to complete in advance.

If a change is needed, make sure the child is given plenty of time to accept and understand what change is going to occur, such as a fire drill.

Within the daily routine, give the students a break! These are often called brain breaks, which can be structured with different movement exercises, sensory techniques, or relaxation techniques like focusing on breathing.

This might be a time to trial and have your student watch and follow along with the exercises from the Soundsory protocol to calm the body and prepare them to return to work.

Provide the child with a visual schedule of their tasks that they can cross off items as they go. This allows the child to see what they need to complete, as well as, see when they are done.

As a Pediatric Occupational Therapist, many of my students often benefit from it. First, they must complete 1-2 worksheets or assignments, and then they can take a structured break before returning to work.
Sensory Strategies
Fidget toys can be beneficial, but can also be a distraction so find which fidget works best. An option may be just taping velcro underneath the desk so the child can touch and feel the velcro as they complete their seated work
Provide flexible seating options

Laying on the floor to read a book
Sitting on a bouncy ball at their desk or table to complete assignments
Working at a Standing desk
Wiggle Cushion

If noise is an issue, headphones, such as the Soundsory headphones is a perfect option
If the student is oral seeking, use something chewy as needed.
Weighted blanket/lap pad while seated at their desk for some extra proprioceptive input.
Adjusting Work Tasks
Some children may become extremely overwhelmed with a worksheet placed in front of them with a ton of empty spaces on it.

Provide your student with highlighted lines or use materials, such as a tape for a visual cue that allows them to see what is needed to be completed
If too much handwriting is the stressor, perhaps you give your child an assignment where they can use speech to text. If speech to text is not an option, perhaps ascribe as needed.
Encourage and teach the child scanning techniques when completing worksheets or use items/blockers to reduce extra visuals on the worksheets

The large group setting can be stressful for some students

When possible, break into small groups.

Does the child have a quiet work area?

If a child is experiencing sensory processing challenges, this child should be seated next to loud areas, such as the door or next to the pencil sharpener.
Maybe the child has a preferred area that they would like to sit in or feel safe in a certain area of the room.
As mentioned early, students need breaks throughout their day. It has been suggested that children between the ages of 3-9 need a break roughly every 15 minutes! Of course during a school day, this is not always realistic to have breaks that frequently. When utilizing breaks with students, it may be a good idea to give them a structured task that they need to complete including heavy work activities. Heavy work activities are beneficial for children who have difficulty processing sensory input, autism, and/or ADHD. These exercises are great options throughout the school day because it provides their body with the extra proprioceptive input to help facilitate regulation. *All students receive input differently. Some activities may be trial and error.*
The goal of heavy work activities is to assist with attention and calming their bodies to prepare them for work. These activities can be used in conjunction with Soundsory for greater results. Some activities include:
Propelling self on scooter board in the hallway
Carrying books across the room or to another classroom
Fill a box with a book or weighted items and deliver to another classroom
Push a food cart or wagon to make deliveries to the classroom
Erase a whiteboard

This also targets shoulder strength and graded pressure

Assist with moving desks in the classroom as the teacher needs.
Use playground equipment outside
Animal Walks
Simulate or complete household cleaning tasks like scrubbing or sweeping
Jump on a trampoline
Wall Pushup and Chair dips with Supervision
Playing soccer
Wheelbarrow Walking
Incorporating all or some of these strategies into your daily classroom routine can be beneficial for all of the students in the classroom. As educators and therapists, we want all of our students to feel comfortable when they are at school. Identifying what works for each student may look different, but once you identify what changes are needed, then navigating the school day can become easier.